Can you believe it's already the end of January? As we launch into February and March, we see the beginning of long weekends, spring breaks and yes, before we know it, summer holidays appearing on the calendar! Family Day, being the first long weekend to arrive in most Canadian provinces on either the 2nd or 3rd Monday in February, (depending on which province you live in), is the perfect way to start off the year's family get-a-ways. Let's face it, life gets hectic especially when we have kids. Family Day is a fabulous opportunity to stop, take a breath and celebrate the importance of our family members and those we think of as family. (If your region doesn't have such a holiday, designate your own!) So, the question beckons…"HOW do we keep the kids busy while we travel to our destination?"
As a mother of 2 and grandmother of 1, in my many years of experience there has been lots of trial and error. Nevertheless, I have found that, whether we travel by road, air or rail, there are lots of terrific activities to occupy the children that can be carted along with relatively little effort. In any travel scenario, space is at a premium so it's important to bring entertainment that can be easily carried and stored when not in use. Each child 3 years old and up can have their own bag or backpack that they are capable of carrying themselves containing their recreation items. Then perhaps designate a parent, other adult or older child to carry shared activity items.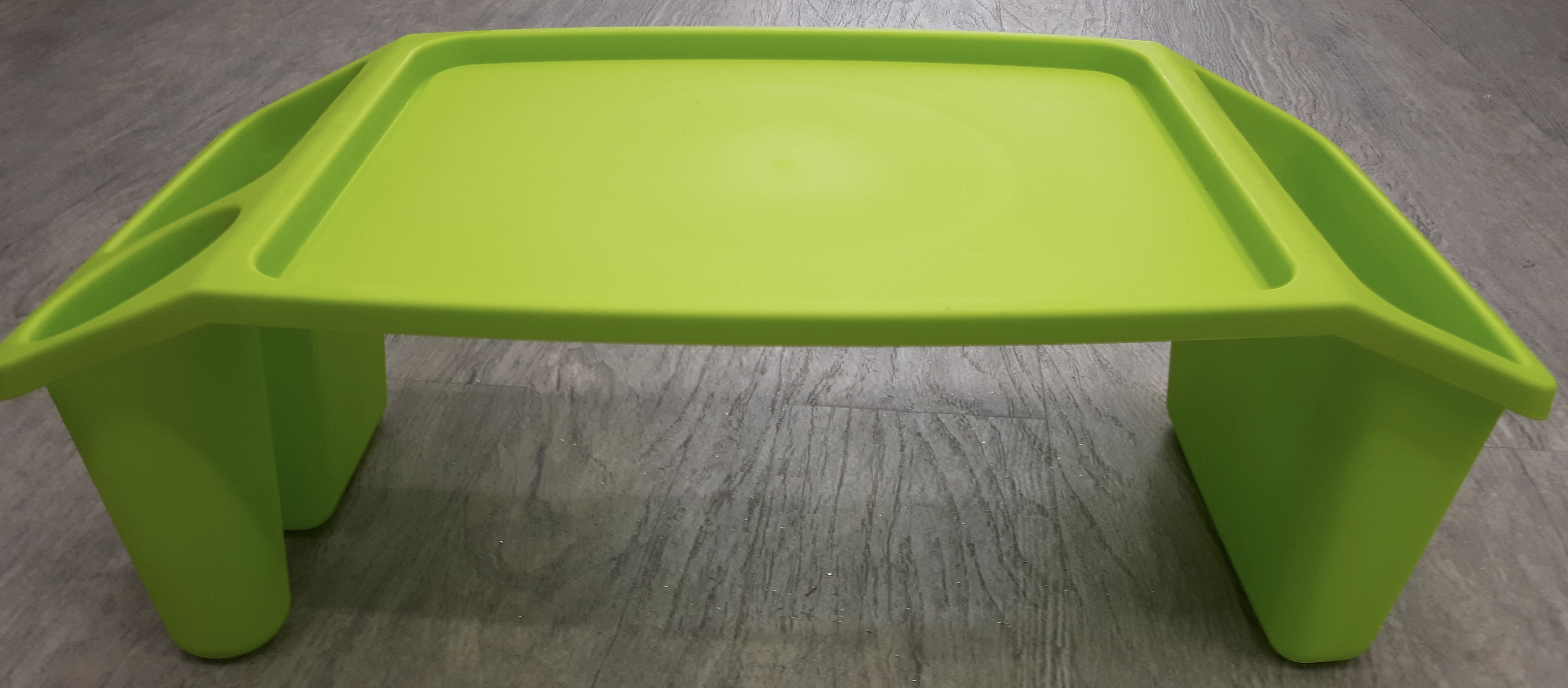 If travelling by car, having an organizational unit that can be hung on the backs of the seats in front can be helpful for keeping wipes, tissues, crayons, pencils and other smaller items within reach. Car travel is also conducive to the use of stackable mini-desks that can fit over laps or car/booster seats providing a flat table surface. (If you opt to let your children use these mini-desks, ensure that they are securely stored in your vehicle when not in use.)
In today's society of technological advancements, the first go-to activities seem obvious: iPad, iPods, MP3 players, tablets, handheld gaming devices, personal headphones and the like. Many newer vehicles have DVD players for movies and other on-screen entertainment. If you do bring these types of devices along, check that the necessary chargers, charging blocks, batteries etc. are also packed. Ensure that they've been fully charged before you set out on the family excursion to avoid immediate disappointment when you're just getting started on your trip.
However, isn't the whole point of taking a family vacation to actually spend time together as a family? So, while electronic devices may have their place along the way, there are other activities that can amuse everyone, even if there are larger age gaps between the kiddies. Travelling in a confined space means you have a captive audience, so whether you are planning a day trip, a long weekend excursion or are looking ahead to spring and summer breaks, use the situation to your advantage to strengthen the family bonds. So let's get started! How do you keep the kids happily occupied so they aren't asking, "Are we there yet?" before you've even left town?
Observation Games: These types of games are great for group fun and teaching turn taking.
"I Spy" is a game in which the first player chooses an object and the rest of the gang has to guess what it is. (E.g. "I spy with my little eye, something that is…green.") Everyone takes a guess until either someone guesses correctly or players give up. The player who guesses correctly gets to choose the next object which can be identified by colour or shape.
"ABC Search", is a fun recognition game in which each player takes their turn finding a letter of the alphabet, in order A through Z, on license plates, road or building signs, passing trucks etc. (This game can be modified to find numbers too!)
Travel bingo games can be purchased for not too much money at the local dollar store, department store or they can be downloaded/printed from the internet for free. Just search "Free printable travel bingo" and locate the style that best suits your family trip. Print off variations of the same type of card, one for each family member, so the same items appear in a different order on each card. Slide each printed bingo card into a clear plastic cover sleeve or laminate them. This way, players can cross off their squares with wipe off or dry-erase markers when objects are found and the cards can be re-used for future play. (Sample below).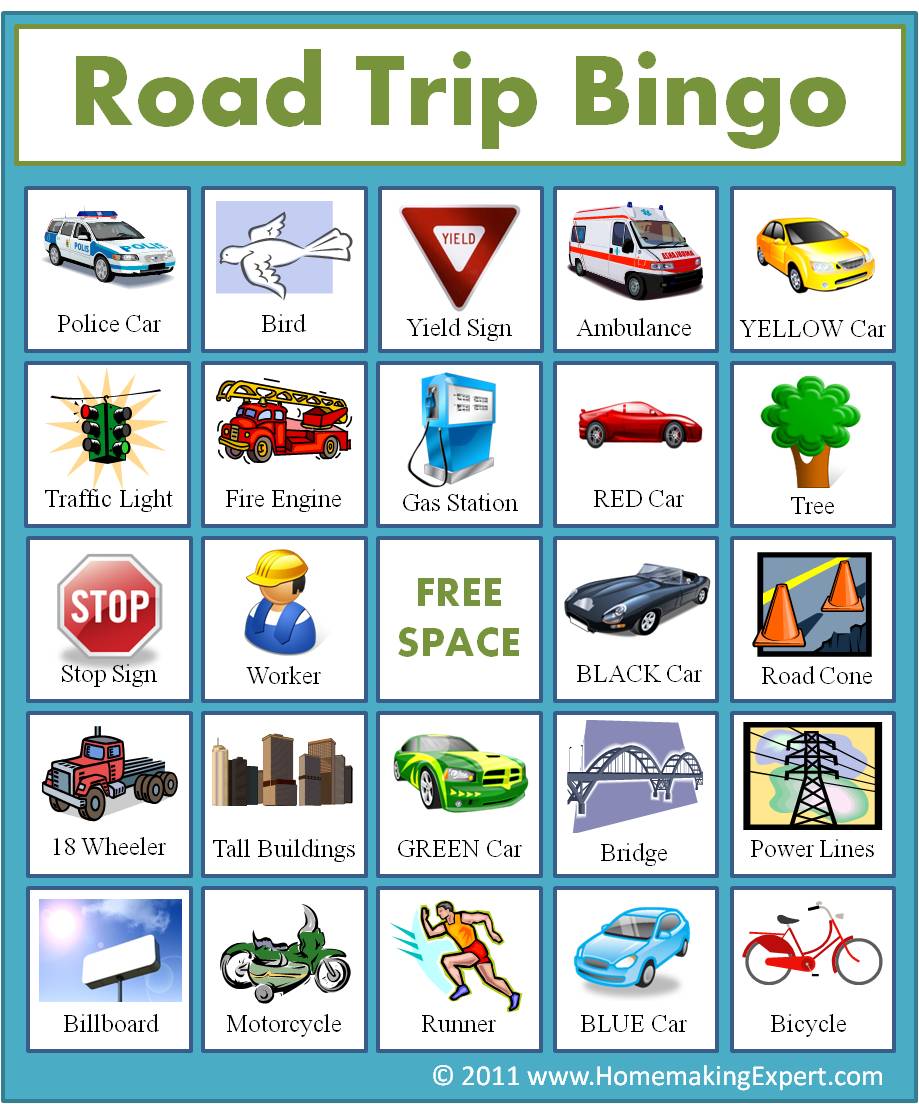 2. Sticker and Puzzle Books: When individual quiet time is needed, re-usable sticker books, word searches, dot-to-dot and crossword puzzle books are awesome. It offers each child a quiet activity at their own age level. They can be found at dollar stores, discount department stores and book stores. Remember the pencils and sharpeners!
3. Colouring Books: There are all types of colouring books in various sizes, shapes and themes; some for adults and older kids as well as for the little ones of their favourite characters. Remember the coloured pencils and crayons!
4. Reading Materials: As long as your child does not get travel sickness while reading in a moving vehicle, reading can be a great activity whether it be a novel, (remember the bookmark), short stories, magazines, comic books or picture books and board books for the wee ones. Reading also provides a great opportunity for the older children to engage with younger siblings by having them reading to each other — again, promoting quality family time!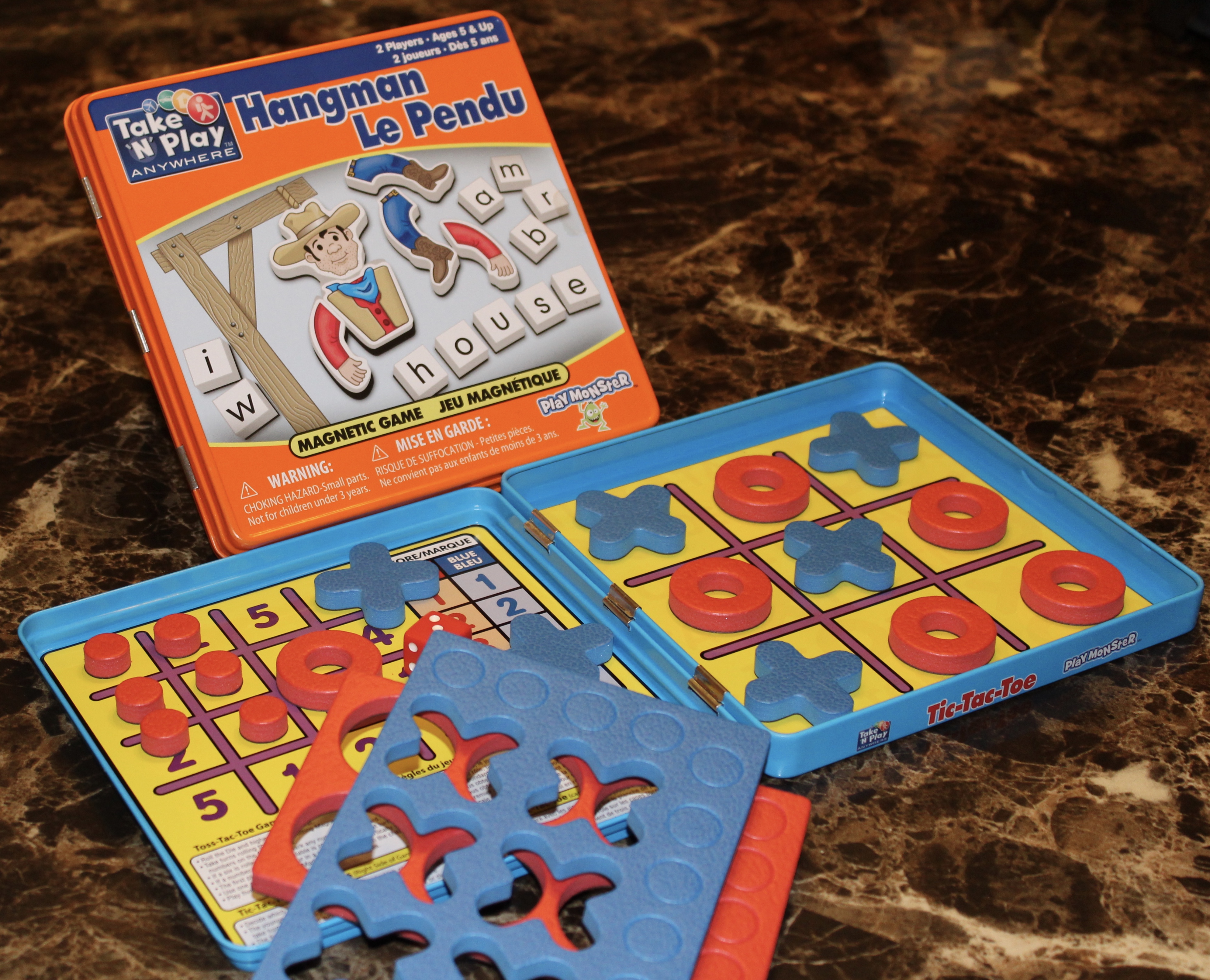 5. Magnetic Games: Magnetic versions of favourite games such as checkers, hangman, tic-tac-toe and more are available from most toy stores and discount department stores, usually at reasonable prices. Also small versions of magnetic building toys are available as well. The beauty of these magnetic sets are that the pieces stick together! This means fewer lost pieces as they don't slide around and can provide hours of family fun in a tight space, even on an airplane or train. Alternatively, bring along a travel size magnetic white board and coloured dry-erase markers to play these games. They are usually available at dollar stores which will help to minimize costs.
6. Music and Audio Books: This option is a great one when the weary travellers just want to kick back and relax, (except the driver of course – watch that road!) If your family is on a road trip, consider taking turns listening to different music genres and artists while ensuring lyrics are appropriate for "little ears" who may be travelling with you in the car. Family sing-a-long song CD's or internet downloads are available. If you prefer, borrow some for the trip from your local library. It's a wonderful opportunity for the toddlers and pre-schoolers to learn new songs and for the older set to re-visit their childhood favourites! Finally, remember to take along a couple of best-loved children's audio book stories. This activity works the listening and imagination "muscles" in addition to passing the travel time in a fun and exciting way. Afterward, each member can share the parts of the story they liked most. Oh, how about that! Actually talking and communicating with each other, (wink wink). If travelling by air or on a train, be considerate of your fellow passengers and use a personal set of ear/headphones so as not to disturb others.
7. Baby Activities: If you are travelling with an infant, bring a few favourite items that baby is familiar with that will entertain as well remind them of home. (Hint: If you are travelling by airplane, try to time baby's feedings with takeoff and landing so that baby can swallow, helping to minimize any ear discomfort.)
Bring along a visually stimulating play mat, pictures or baby mirror that can be attached to the seat where baby can see them, whether baby is rear or front facing.
Soft toys
Cloth books
Teething rings
Favourite toys and stuffed animals
Each family member can take turns being a "baby buddy" who can sit beside baby to help amuse, read stories and play baby games he/she enjoys like peek-a-boo
Where ever you go, what ever you do and how ever you decide to travel, keep in mind that the "getting there" should also be part of the fun and not just the time between leaving home and arriving that is to be endured. It is a period of anticipation that can be just as much a wonderful part of the journey as the time spent at the actual destination. With a little thought, preparation and patience, the pleasure of a family trip can start the minute you leave home and, hopefully, last through till you return. Wishing you lots of fun adventures and happy memory making!